WHEN DUST CONTROL IS ESSENTIAL
Is concrete slab or floor adjustment, levelling or stabilisation work needed while strict standards to protect the staff, users and equipment from all dust must be strictly observed?
Whether it is to complete work in a hospital, laboratory, school, food processing plant, etc., our staff has the necessary knowhow and equipment, such as the material needed to set up a negative pressure work area, to minimize dust production and ensure its collection. Moreover, the innovative solution of GeoFix with the injection of a specialized polymer is a much cleaner process than the traditional method requiring demolition and reconstruction work.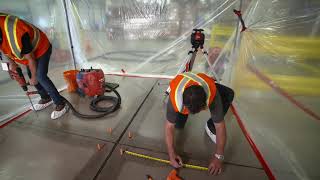 Quick
Work often completed the same day
Cost-efficient
Minimal productivity loss
Durable
For the full life of your concrete floor or slab
Eco-friendly
No negative impact on the environment
YOUR STAFF AND EQUIPMENT ARE PROTECTED
The adjustment, levelling or stabilization of a concrete floor or slab in a sensitive area no longer needs to be the cause of headaches leading to high costs. The innovative geofixation solution of GeoFix meets the highest standards of cleanliness.